If you have a deck attached to your home, you most likely have guard rails and may have steps or a staircase.  There are specific code requirements for both and all types of decks require maintenance.  These should be checked annually, typically in the spring before your outdoor space activities begin.
First, some specific requirements. Safety is a big concern due to deck failures we see occur each year. All decks higher than 30" above grade must have a guardrail. If you have a deck surface lower than 30" with a rail, the railing must still meet code requirements. Decks attached to a single-family detached home are generally regulated under the rules of the International Residential Code (IRC) from the International Code Council (ICC).  Check with your local building department for their applicable code deck requirements

Deck Maintenance
Check the vertical posts are securely anchored and tighten as needed. Some posts are mounted to the deck surface, others to the outside edge of the deck.  Whether they are constructed of wood, composite, PVC, or metal, all rails must withstand a concentrated 200 lb. force anywhere along the top of the rail.  This means the posts, horizontal rails, and balusters must be securely attached. See the following link for more information. Deck railing building codes
Rails
The upper and lower horizontal rails between the railing posts, vertical balusters, and stair railings must also be secure.  Again, depending on the materials, anchorage methods will vary.
Tighten all decking screws, bolts, and lag screws. All fasteners should be galvanized or other code-approved non-corrosive material.
Steps and Landings
For steps and landings, there are quite a few components to consider. The most important, maximum riser height is 7 3/4" and the minimum tread depth is 10". This is based on the 2018 IRC. See the following link for more information.  Stairs
Check the attachment of the stair stringer to the deck framing and tighten/secure as needed.
Check each stair tread is secure and not loose.  Also, look at any riser boards installed between each step.  Loose step treads and riser boards can be a trip hazard.
Similar to rails, check the stair rail(s) including the balusters if you have them, and secure them as needed. Loose rails can lead to injury, or worse, a fall off of a deck.
Deck Boards
Verify all your boards on the walking surface, including landings, are secure as needed to eliminate a trip hazard.  If any are rotted, those need to be replaced.  Wood is normally attached with screws.  Some parts of your deck may be secured with carriage bolts or lag screws.  Older deck boards were attached with nails. 
Composite decking has several methods of attachment depending on the manufacturer.  Some may be attached with screws through the surface face of the board.  Others may have hidden fasteners between the boards. If you have surface fasteners, be sure all screw heads and nail heads are flush with the surface.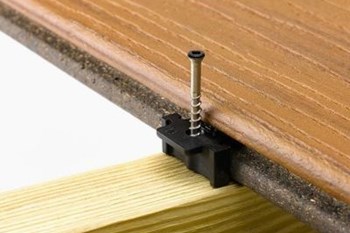 Two of the most popular types of residential deck materials are natural wood and composite material. From pressure-treated wood, decay resistive wood like cedar and redwood to more exotic hardwoods, wood gives you a variety of styles to choose from. 
Wood is susceptible to deterioration and must be maintained.  Wood should receive an annual cleaning so protective sealers can seep deeper into the wood.  If your wood is sealed or painted, it will require annual maintenance to main its appearance and serviceability. 
When it's dry and moderately warm—60 to 70 degrees Fahrenheit—apply an appropriate deck-cleaning solution, compatible with your type of deck material, to kill mold and bacteria. Use a utility brush to scrub the deck where it's especially dirty and where mold or mildew might lurk.  Do not use chlorine bleach.
Power washers and pressure washers are the quickest way to clear residue, but you risk damaging the wood or composite material. A garden hose outfitted with any nozzle that has a hard-stream setting will work.  If you decide to use a pressure washer move the nozzle along the wood grain at a slight angle about 8 inches from the deck surface. Keep the nozzle moving at all times.
Composite material is made from a combination of wood pulp and synthetic materials covered with a synthetic shell. It closely resembles the natural beauty of wood, but requires less maintenance and is built to resist rot, mildew, and insect infestation.  We recommend a semi-annual cleaning with a composite deck cleaner. You can also clean with soap and water or a very gentle pressure washing. Learn how to clean and care for your composite decking by reading the manufacturer information that applies to your decking product.
Metal materials like steel are typically powder coated to resist rust.  Aluminum and powder-coated material should be cleaned at least annually. Using water, a mild and non-abrasive soap, and a sponge, simply scrub off the grime. Do not use a dry or very rough sponge, which can damage the surface of the metal and cause scratches. Afterward, rinse with clean water. For best results, clean your metal surfaces on a cool and overcast day.
Product Links
Summary
If properly maintained, your deck, regardless of the type of material it is constructed of, will provide many years of use and fun activities.  But you must be diligent in this maintenance.  Whether you live in a hot, humid, and moist region, or a cold, snowy, and icy region, decks will require different levels and frequencies of maintenance.  Keep eyes on your deck and maintain it as needed.  Don't put maintenance off!